Our Commercial Pipe Restoration Methods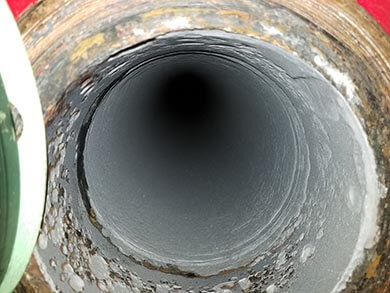 Pipeline and sewer pipe restoration is an efficient and often cost-saving process these days in comparison with traditional methods. Here at Nu Flow South Pacific, we're up-to-date on the latest and most innovative pipe restoration methods, using proven and patented NuFlow techniques and technologies to completely restore drain systems with a minimum of disruption and expense.
Trenchless Repair
NuFlow technology makes restoration non-invasive through trenchless drain pipe repair techniques. Trenchless repair essentially restores lines where they are, without having to dig them up. The entire process takes place from one or two access points, and is often completed quickly, leaving the surrounding landscape, buildings and roadways undisturbed.
We're here to ensure that your trenchless pipe repair in Kailua-Kona, HI is safe, offers long lasting results, cost-effective, minimally disruptive, and minimally invasive.
Nu Line Epoxy Repair
After completing a pipe inspection and cleaning, technicians at NuFlow evenly coat the pipe's interior with an epoxy-filled liner using continuous airflow. The epoxy hardens to create a tough and corrosion-resistant new pipe wall.
Cured-In-Place Pipe Lining
Cured-in-place lining is another highly effective pipe rehabilitation alternative. The CIPP process involves inserting a flexible liner that is internally coated with an epoxy resin. The liner inflates to match the pipe's contours, where it also hardens to create a resilient liner. CIPP covers all breaks or cracks, is highly resistant against corrosion, and keeps out tree roots.
These non-disruptive sewer pipe repair technologies and techniques can be applied to a wide variety of commercial pipes, from cast iron and clay to cement and Orangeburg, and will last for 50 years or so.
Drain Cleaning
Our team also handles comprehensive large scale commercial drain cleaning projects. We utilize hydro jetting, which uses highly pressurized water to effectively cut through and clear away corrosion, scale, tree roots, accumulated grease, and other types of buildup, effectively restoring flow. We provide pipe cleaning as a standalone service or as the first step of a repair process.
At Nu Flow South Pacific, we recognize that functional sewer systems are crucial for smooth-running business operations. Whether it's for water systems, drain systems or mechanical systems or emergency pipe repair, our trained specialists can handle it. Be sure to contact our team to schedule an appointment.
Contact Nu Flow South Pacific