Trenchless Sewer Repair in Kailua-Kona, HI
At Nu Flow South Pacific, one of the ways we serve our commercial clients and other valued customers in the Aloha State is by offering state-of-the-art solutions, including trenchless pipe repair. Nu Flow's patented pipe lining technology fully restores sewer lines with as little fuss and disruption to business operations as possible.
Trenchless sewer repair in Kailua-Kona, HI, earned its name because the repair is completed without the need to dig extensively. This fact alone can contribute to a significant reduction in work time. We repair sewer lines through a minimally invasive method: cured-in-place piping.
Comparing Trenchless Methods With Excavation
Dig-and-replace is a term often used to refer to traditional sewer repair. It's done by digging a trench to expose the damaged pipe. The sewer line is then repaired or removed entirely and replaced. What clients find inconvenient, however, are the messy cleanup and extensive downtime associated with this method.
Trenchless pipe replacement or repair methods are done in ways that avoid or minimize disruptions above the ground. A trenchless approach to sewer repair can be referred to as cured-in-place piping, and is often possible as long as the affected sewer pipe is stable. However, there are other minimally invasive solutions that may be viable even if the commercial sewer line is severely damaged.
Nu Flow's Approach
Any approach to trenchless sewer replacement courtesy of the Nu Flow South Pacific team starts with a camera inspection. Our specialized contractors will check on all issues with the sewer line. If trenchless repair is appropriate, we insert a textile liner into the damaged pipe, using specialized equipment to press the epoxy-coated liner against the inside of the pipe walls. Once it cures, you are left with a clean and seamless "pipe-within-a-pipe."
Be on the lookout for these signs: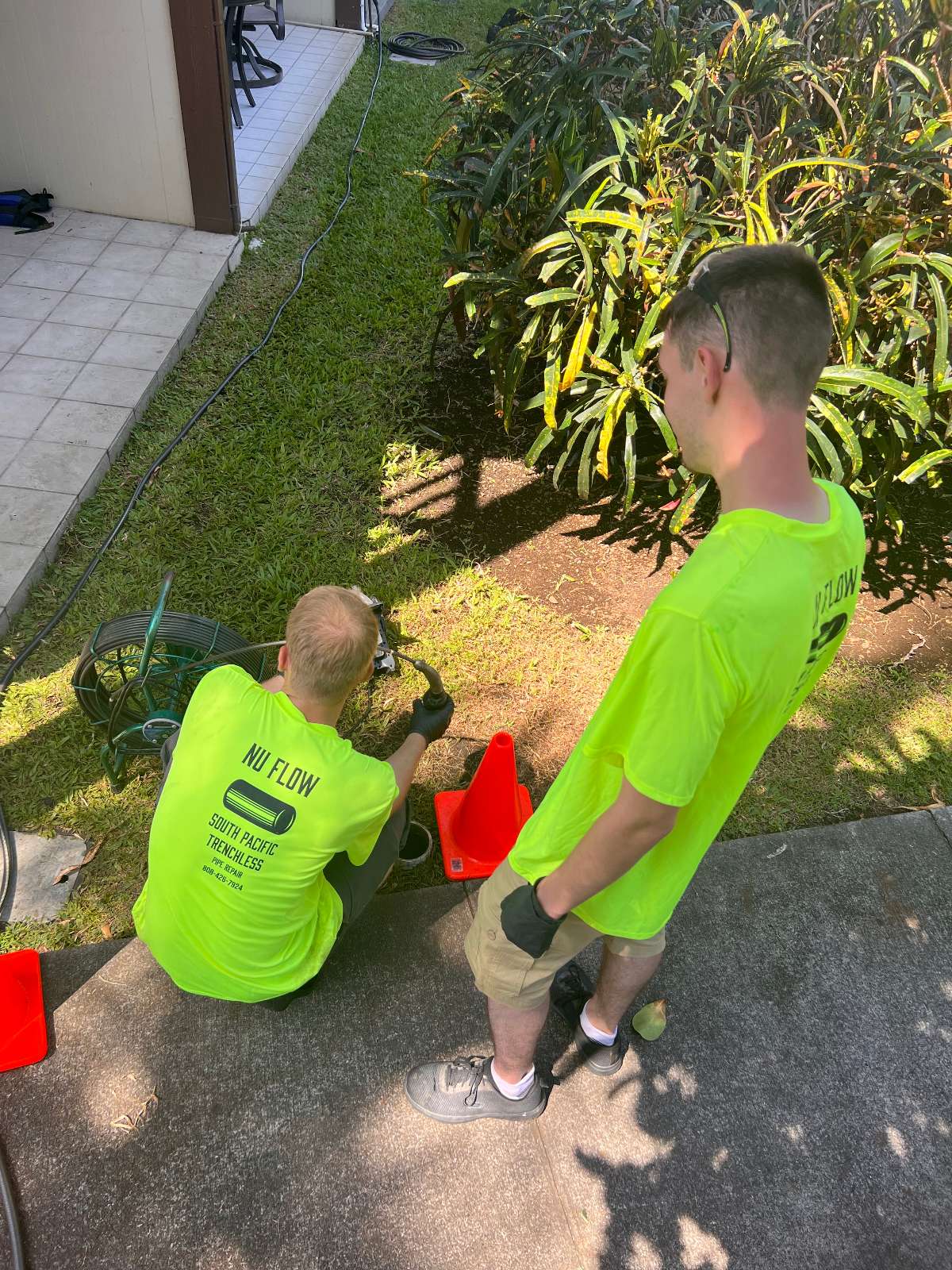 Main Advantages for Sewer Line Repairs
Trenchless sewer replacement and repair methods are beneficial because the work is done in a timely and cost-effective way. Additionally, trenchless technology is environmentally friendly while still offering an impressive return on the initial investment.
Contact Us Today for Trenchless Solutions
If you're in need of sewer line repair, contact Nu Flow South Pacific about our trenchless options. We restore all types of pipes in minimally invasive ways, including larger commercial sewer lines. Reach out to our team today to benefit from our cutting-edge approach to trenchless pipe replacement and repair.
Contact Nu Flow South Pacific